ScreenMeet for ServiceNow
No matter what workflow you're looking to transform for an improved service experience, ScreenMeet makes it easy to add voice, video, screen sharing, cobrowsing, and remote desktop takeover to any ServiceNow deployment.
Integrated deeply into ServiceNow, it can be used with all three major workflows (ITSM, CSM and HRSD). ServiceNow uses ScreenMeet for both their IT Help Desk as well as Customer Support. Hear directly from ServiceNow in this case study webinar.
Increase Employee Satisfaction by Transforming the Work from Home Experience
Create seamless remote IT support experiences to get employees who are working from home up and running faster.
Easily onboard and support remote employees with a frictionless, real-time engagement platform.
Sound impossible? With ScreenMeet, it's not! With a seamless embedded experience in ServiceNow, a single login and no additional apps to download, IT staff can provide a better service experience to remote employees, increasing employee satisfaction and streamlining the support process.
Watch this short video to hear from ServiceNow why their Help Desk Employees "can't live without" ScreenMeet.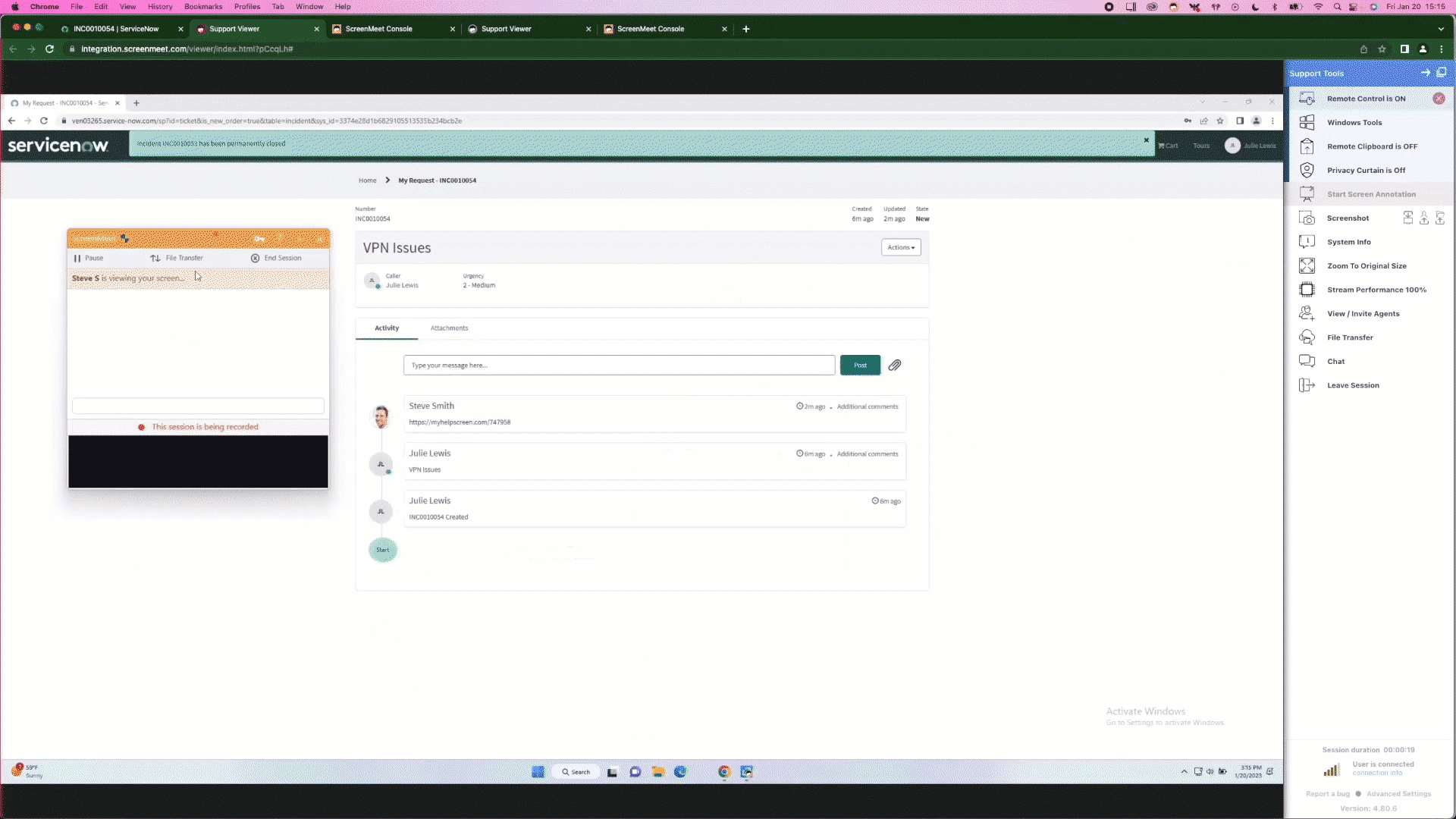 Transform your help desk performance and satisfaction in record time
Add ScreenMeet to ITSM and digitally transform your IT support to offer the next level of IT support, embedded in ServiceNow. Neither the agent nor the employee ever need to leave the IT Workflow!
Imagine being able to:
Use a mobile camera as remote eyes in addition to having full desktop access
Have in-platform integration with any Task or Interaction, automatically recording, downloading, and saving the incident.
Support any ServiceNow Digital Engagement Channel e.g. Virtual Agent
Great employee experiences require a modern approach
Hear from this ScreenMeet customer as he shares the benefits of switching to ScreenMeet Remote Support for their IT Help Desk - 10% increase in First Call Resolution, 25% decrease Handling Time and 50% decrease in setup time of new hires.
Watch a 3 min demo of ScreenMeet Remote Support embedded in ServiceNow Operations Workspace.
Sign up for a FREE customized demo!
Enhance Customer and HR Workflows
Modernize and optimize Customer and HR workflows with virtual-first engagement using video chat, cobrowsing, and screen sharing—all without leaving ServiceNow's interface—to enter a truly personalized, interactive session.
All authentication and session details are automatically stored into ServiceNow, which allows your IT team to connect faster and accelerate issue/case resolution time while providing a seamless experience.
Watch Video: ScreenMeet for Customer Workflows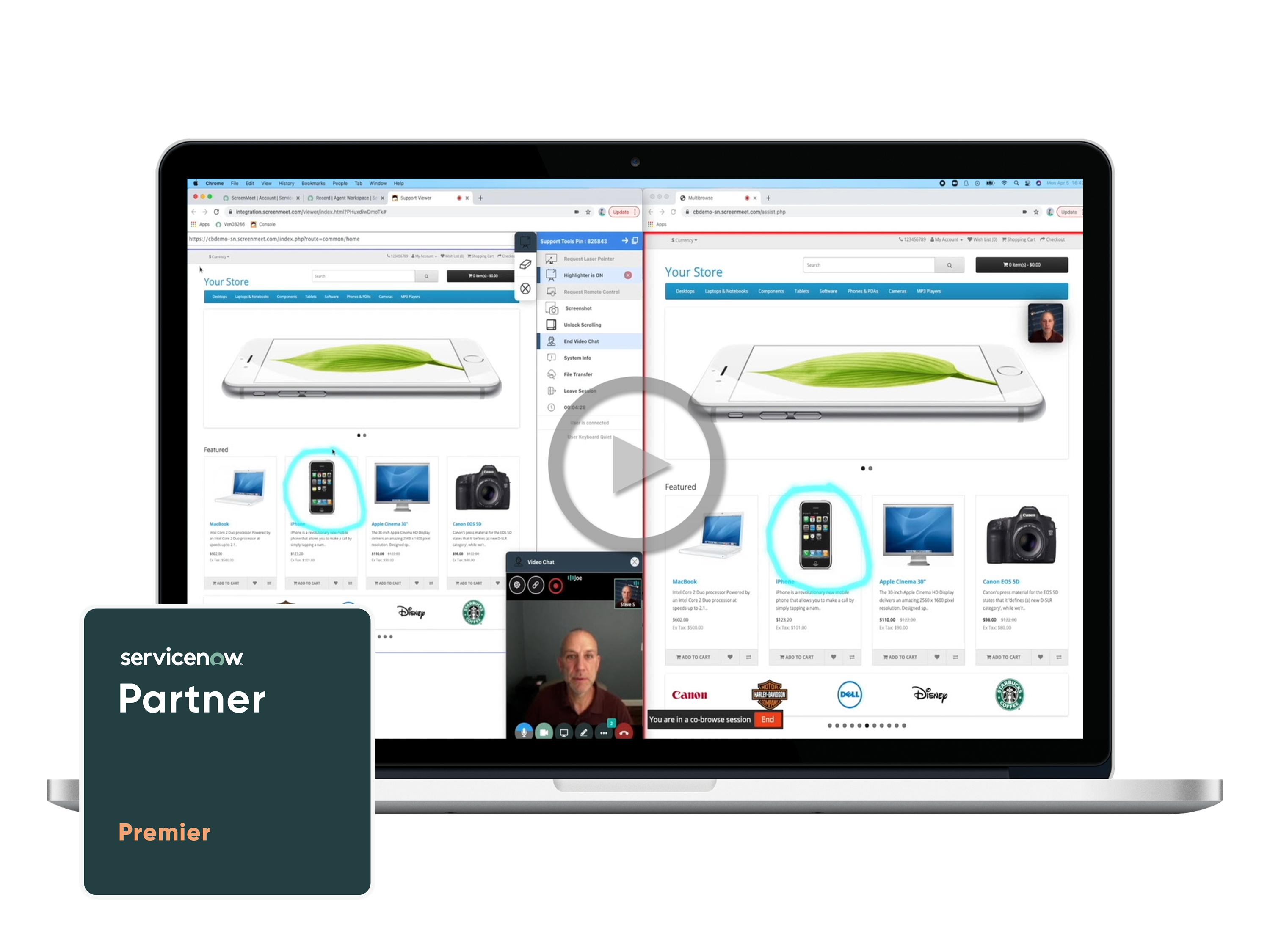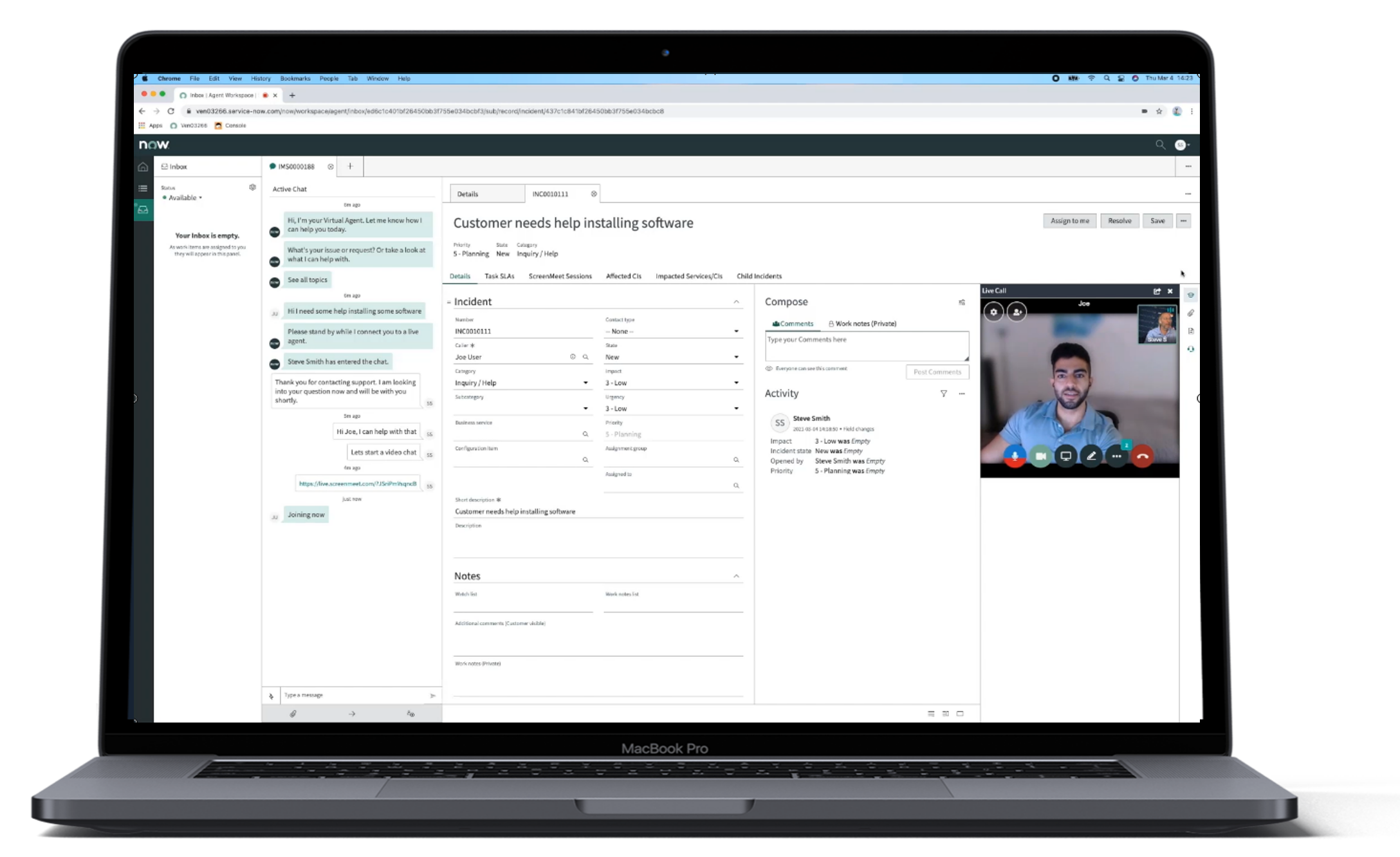 Try ScreenMeet for ServiceNow for Free
Available on the ServiceNow Store, ScreenMeet leverages ServiceNow's Authentication and data security to provide you with the enterprise-level security and data protection you expect from your Enterprise-grade software vendors.
Get started with your Free custom demo here.
While ScreenMeet can be deployed inside of any ServiceNow object, it is used mainly inside of Incidents, Cases, and Agent Workspace.
Key Benefits of ScreenMeet with ServiceNow
Improved ability to support employee and customer remote and hybrid workforce
Users stay "In-Platform" never having to leave ServiceNow when using ScreenMeet
All authentication and session details are automatically stored into ServiceNow providing a seamless experience.
Reduce operating costs and improve productivity with faster session connections and automatic session recording.
Clients & Partners





Testimonials
It was the smoothest move ever we have done with a tool. And because session notes, screen shots, call recordings, and other information are automatically added to the incident, the biggest benefit so far has been the time savings, requiring fewer steps to get everything into the ticket for logging.
Liran Daniel, Employee Experience Innovation Manager
ServiceNow
Waqas Mahmud, Senior Mgr of IT and Services
Ontario Teachers' Pension Plan (OTPP)
We want to save time and be more efficient… We want the experience to be like a plane cockpit with all the buttons in front of us. When we have that experience, we are not wasting time, we are more efficient with all the data in front of us, and we can act quickly.
Liran Daniel, Employee Experience Innovation Manager
ServiceNow
Liran Daniel, Employee Experience Innovation Manager
ServiceNow
We also saw a 35% increase in first call resolution. When you can see what your customers are seeing, you don't need to describe it. It's so much easier to resolve.
ScreenMeet has been easy to implement, and it's received a 4.75 from an engineer satisfaction standpoint where they really do love it because it just works. And that's huge.
With ScreenMeet we're measuring resolution time in minutes, not days.
When you can actually show and share screens with somebody, you're really able to teach them. And so, customers really value that learning about our platform and our products.
ScreenMeet is another unicorn we've all been chasing for a long time in customer services, the single pane of glass for the agent.
Ready to Radically Improve Your Service Experience with ScreenMeet and ServiceNow?
Transform online support experiences with ScreenMeet.