Solutions for IT Support
ScreenMeet's in-platform applications are designed to help your IT Help Desk support hybrid work and make it easy to provide service to employees, whether they are in the office or working from home.
Engage your employees and agents more efficiently with ScreenMeet as a seamless extension of your existing IT Service Delivery Platform.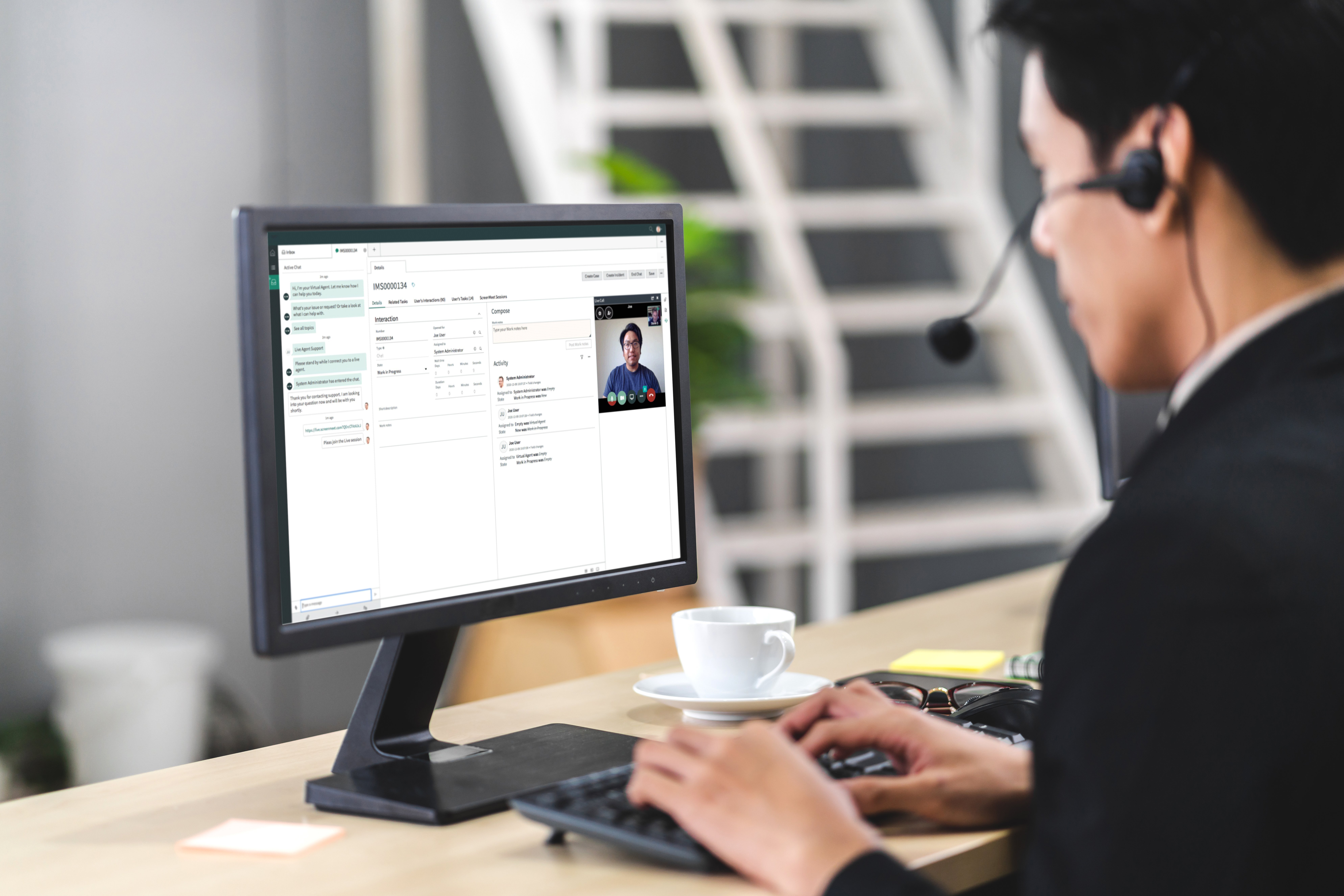 Diagnose and Resolve IT Issues in Real Time
ScreenMeet's unique combination of video calling, screen share, and remote desktop functionality lets you quickly diagnose hardware and software issues with no frustration.
Everything is done seamlessly inside of your existing IT Help Desk ticketing system. There's no need to create additional user accounts or have concerns about where your data is being stored. Everything goes back to your existing system of record!
Launched in-platform, with no downloads, and authenticated within the platform, it is truly a seamless experience for both your agent and employee. Get your employees onboarded and resolve IT issues with an experience that is almost like being in person, using voice and video, launched right from your ITSM platform.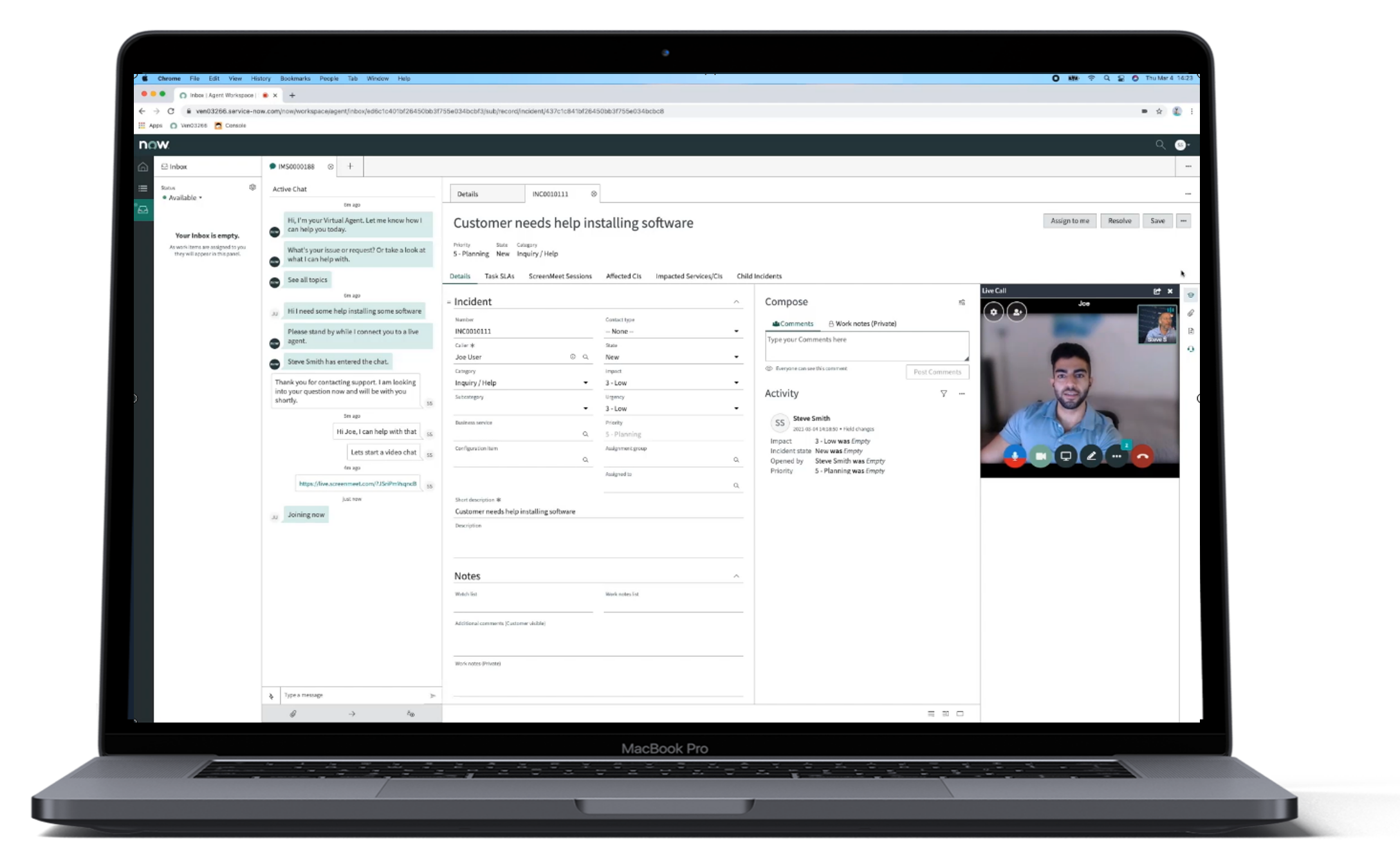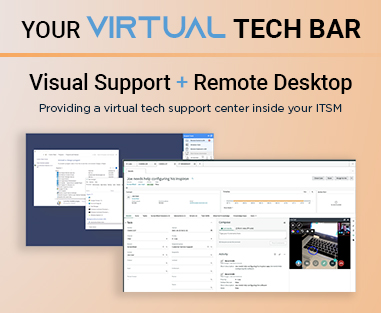 Transform Your IT Support with a Virtual Tech Bar
By adding visual support through Live + remote desktop takeover through Remote Support, you can provide a virtual tech support center inside your ITSM, and neither the agent nor the employee ever needs to leave the platform.
Imagine being able to:
• Use a mobile camera as remote eyes in addition to having full desktop access
• Have in-platform integration with any task, interaction, or object record
• Support any digital engagement channel e.g. chat, bot, voice, or virtual agent
Key Benefits of ScreenMeet for IT Support:
Remote Desktop Support functionality to support hybrid work and WFH
Delivered as a seamless extension of your existing IT Service Delivery Platform
Fully secure. All account credentials and data use your existing IT platform
Much faster time to resolution, happier agents and employees!
Testimonials
ScreenMeet functions great - it's simple and easy for our agents to use. It has taken a process that required agents to have multiple browser tabs or programs open and reduced it to just a single interface (Salesforce).
Kathryn Mauck, Project Manager,
Global Support Operations at OpenTable
We also saw a 35% increase in first call resolution. When you can see what your customers are seeing, you don't need to describe it. It's so much easier to resolve.
With ScreenMeet's capabilities, Zenni is now literally on the same page as our customers.
Jeff Huang, Director
Global Customer Success Operations
When you can actually show and share screens with somebody, you're really able to teach them. And so, customers really value that learning about our platform and our products.
With the ScreenMeet integration, our agents can start and end screen share sessions without leaving Salesforce to log the data somewhere else. Now, our customer information is all in one system and can be accessed at the drop of a hat as we take care of our customers.
Kathryn Mauck, Project Manager,
Global Support Operations at OpenTable
With ScreenMeet we're measuring resolution time in minutes, not days.
ScreenMeet has been easy to implement, and it's received a 4.75 from an engineer satisfaction standpoint where they really do love it because it just works. And that's huge.
Fix your IT issues effectively to keep your team productive!
Transform online support experiences with ScreenMeet.