Come learn, grow and succeed with us!
ScreenMeet's digital engagement platform arms Sales, Service, and Support agents with powerful web-based video chat, screen share and remote support that enable amazing 1:1 personalized customer and employee experiences.
Salesforce, ServiceNow, and Microsoft Dynamics users love our 'in platform' offerings so much that 85% of our business comes from Global 2000 Companies…literally the best brands!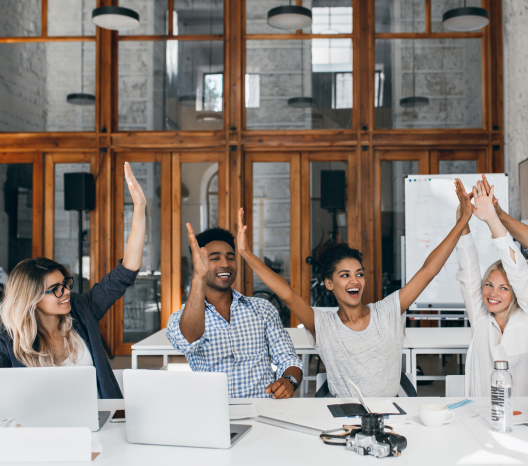 Are you ready to join ScreenMeet?
You may be a great match for ScreenMeet if you:
Want a team-based approach to Enterprise Sales and Customer Success
Have experience with Salesforce, ServiceNow, or Dynamics ecosystems
Enjoy evangelizing the benefits / ROI of better Customer and Employee Experience
See below for our current open positions. If you think you're ready for the next step in your career, we'd love to hear from you.
Our workplace is one of inclusion and diversity, and offers the following benefits and more!
"Work from Anywhere" Policy
Comprehensive Medical, Dental, and Vision Coverage
FSA (Medical & Dependent care)
Life Insurance and STD/LTD
Stock Options
401k Plan
Careers
Associate Account Executive
US - Remote
As an Associate Account Executive for ScreenMeet, you will lead the front end of our business development by executing high volume sales outreach to target ServiceNow customers. These prospects will come from outbound campaigns and other marketing activities, as well as inbound leads that come through our web site, online Ads, and partners. Do you have a passion to jumpstart your career into Enterprise SaaS Sales, especially within ServiceNow ecosystem? If so, let's talk.
DevOps Engineer
US - Remote
As a part of our DevOps team, you will be responsible for implementing infrastructure as code, build and release processes, monitoring, and developing developer tooling.
Enterprise Customer Success Manager
US - Remote
Our quickly growing Customer Success Team is seeking an Enterprise Customer Success Manager to drive retention, uncover expansion opportunities, and generate customer advocacy for some of our largest accounts. You will also assist in the evolution of our playbook, contribute to our marketing and sales toolkit, and collaborate with our product team.
Senior Director DevOps
US - Remote
We are looking for a talented Sr. Director of DevOps to manage our AWS infrastructure, orchestration and CI/CD processes. You have deep knowledge of cloud infrastructure and best practices for scaling systems and processes. As a senior member of the engineering team and work closely with our backend, frontend, and mobile teams as we roll out amazing products! This is a remote position for anywhere in the continental USA.
JavaScript/Node Full-Stack Engineer
US - Remote
Our development team is seeking a Javascript developer to work with streaming video, websockets, re-usable back-end and front-end components, microservice architectures, websockets, distributed systems, and infrastructure as code.
Senior Node.js / JavaScript full-stack Engineer
US - Remote
Our development team is seeking an experienced Javascript developer to work with streaming video, websockets, re-usable back-end and front-end components, microservice architectures, websockets, distributed systems, and infrastructure as code.
Senior Audio/Video Engineer (C/C++/WebRTC/WebAssembly)
US - Remote
As a developer at ScreenMeet, you will work on many of ScreenMeet's core services, including enhancing ScreenMeet's streaming video and audio quality and fidelity, with projects like echo-cancellation, audio muxing, video transcoding, bandwidth congestion optimization, and more.