Come learn, grow and succeed with us!
ScreenMeet's digital engagement platform arms Sales, Service, and Support agents with powerful web-based video chat, screen share and remote support that enable amazing 1:1 personalized customer and employee experiences.
Salesforce, ServiceNow, and Microsoft Dynamics users love our 'in platform' offerings so much that 85% of our business comes from Global 2000 Companies…literally the best brands!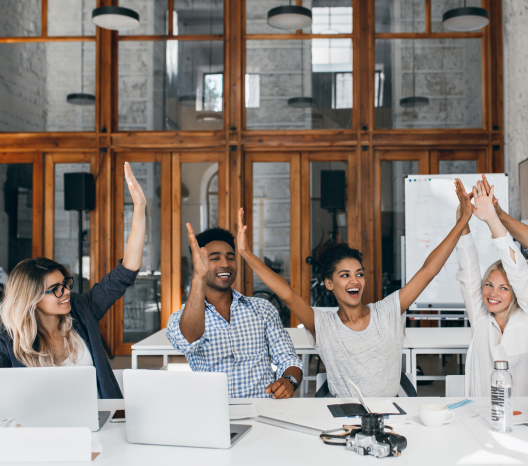 Are you ready to join ScreenMeet?
You may be a great match for ScreenMeet if you:
Want a team-based approach to Enterprise Sales and Customer Success
Have experience with Salesforce, ServiceNow, or Dynamics ecosystems
Enjoy evangelizing the benefits / ROI of better Customer and Employee Experience
See below for our current open positions. If you think you're ready for the next step in your career, we'd love to hear from you.
Our workplace is one of inclusion and diversity, and offers the following benefits and more!
"Work from Anywhere" Policy
Comprehensive Medical, Dental, and Vision Coverage
FSA (Medical & Dependent care)
Life Insurance and STD/LTD
Stock Options
401k Plan
Careers
Account Executive
US - Remote
ScreenMeet's digital engagement platform for sales, service, and support enables enterprises to deliver experiences with a responsive, experienced voice and measurable ROI. Our innovative cloud offerings are 'in platform' with CRM / ITSM solutions from Salesforce, ServiceNow, and Microsoft Dynamics. As an Account Executive, you will target mid- to large-enterprise accounts with a strategic sales and partner ecosystem driven approach.
Associate Account Executive (AAE)
US - Remote
As an Associate Account Executive for ScreenMeet, you will lead the discovery qualification process for Sales. These prospects will come from marketing activities, as well as inbound leads that come through our web site, online ads, and partners. Do you have a passion to jumpstart your career into Enterprise SaaS Sales, especially within Salesforce, ServiceNow, and Microsoft Dynamics ecosystems? If so, let's talk.
Business Development Rep (BDR)
US - Remote
If you have a strong interest in developing business development and marketing skills within a fast-growing SaaS company, this position may be a great fit for you. As a BDR for ScreenMeet you will lead the front end of our business development by executing high volume sales outreach to target prospects.
Digital Marketing Manager
US - Remote
Our marketing team is seeking a Digital Marketing Manager to develop, implement, track, and optimize our digital presence and digital marketing campaigns across all online channels. This includes, but is not limited to, creation of lead generation campaigns, managing our social media pages and website content, search engine optimization, google adwords, and contributing to marketing campaigns, advertisements, and events.
Senior Director of DevOps
US - Remote
If you have deep knowledge of cloud infrastructure and best practices for scaling systems and processes, we're seeking a talented Sr. Director of DevOps to manage our AWS infrastructure, orchestration and CI/CD processes. The right candidate will be a hands-on leader, responsible for driving our dev-ops architecture, tooling, monitoring while mentoring a small team. This role will report directly to the VP of Engineering, and is a remote position for anywhere in the continental USA. As a senior member of the engineering team you will work closely with our backend, frontend, and mobile teams as we roll out amazing products!



Senior Node.js / JavaScript full-stack Engineer
US - Remote
Our development team is seeking an experienced Javascript developer with a solid computer science background is needed to continue developing a distributed Software as a service. A deep familiarity with networking and front-end technologies is needed to build a reliable real time screen sharing solution for the browser.
Solutions Engineer
US - Remote
As ScreenMeet's Solutions Engineer, you will be responsible for supporting our pre-sales efforts by using your technical and domain expertise (Customer Service and IT Help Desk) to address business issues, demonstrate technical credibility, and convey value. You will directly impact our revenue growth with customers and ecosystem partners by facilitating customer discovery, demonstrating our solutions, aligning to business value, building partnerships, and gathering feedback for future innovation. Do you have strong technical pre-sales support skills, a proactive work style, and the ability to translate technical capabilities into business benefits? Let's chat!
Video / Audio Streaming Engineer
US - Remote
As ScreenMeet's Video / Audio Streaming Engineer, you will be responsible for helping to build out our video streaming / webrtc / collaboration software. Reporting to the Senior Director of Engineering, this role is critical for continuous improvements in our existing products as well as participating in the development of new products.