ScreenMeet for Salesforce
If you're looking to quickly and easily add screen sharing, voice, video, cobrowsing, or remote desktop takeover to any Salesforce deployment, look no further than our native, frictionless, real-time engagement platform.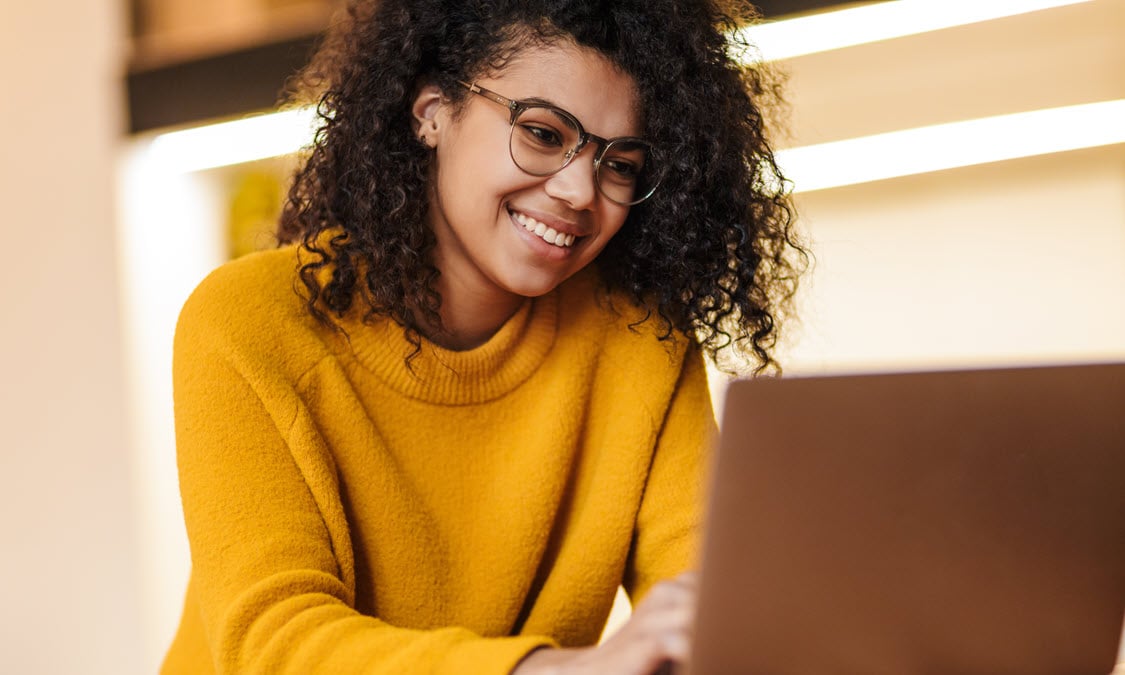 Empower your support team with Screen Sharing, Cobrowsing, and voice & video for Salesforce
With deep integration for Salesforce, ScreenMeet works with Salesforce Service Cloud to improve customer service, enable virtual e-commerce, and support real-time collaboration and remote support - all without a download.
Adding ScreenMeet to Service Cloud provides agents with the tools they need to resolve customer issues faster. Integrated screen share, voice and video chat, cobrowse, and remote support launched directly from Salesforce allows the customer to enter a truly personalized, interactive session with the agent, something that has resulted in real value for ScreenMeet clients, including Salesforce.
Hear directly from Salesforce how screen sharing by ScreenMeet, embedded in Salesforce, has positively impacted their Customer Support in this short excerpt of the on-demand session.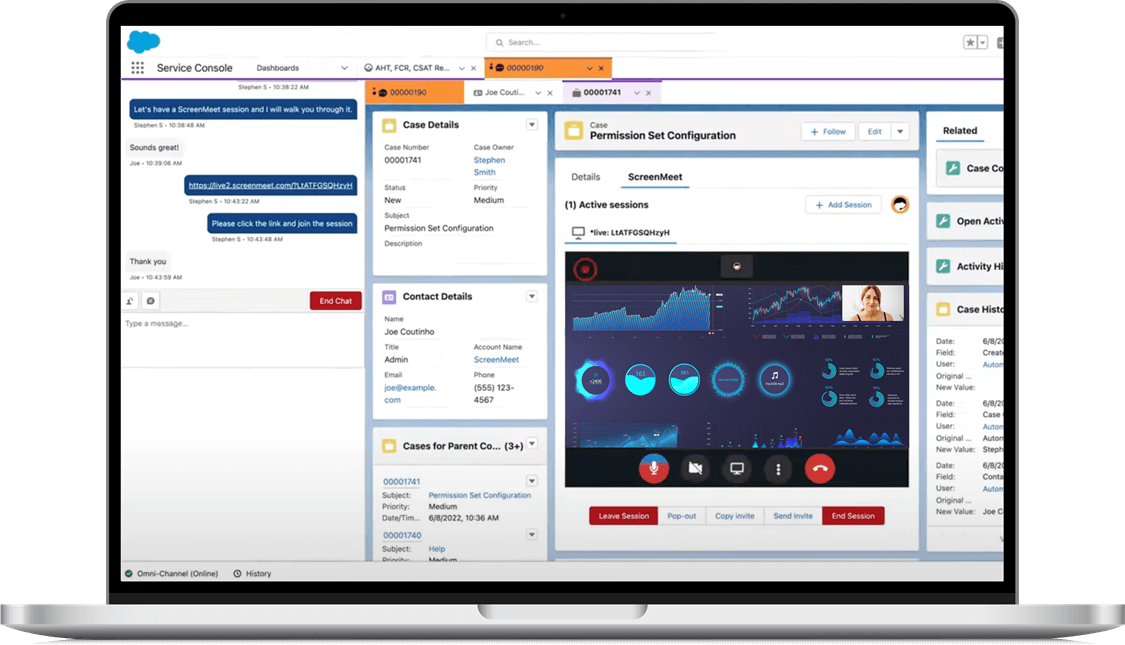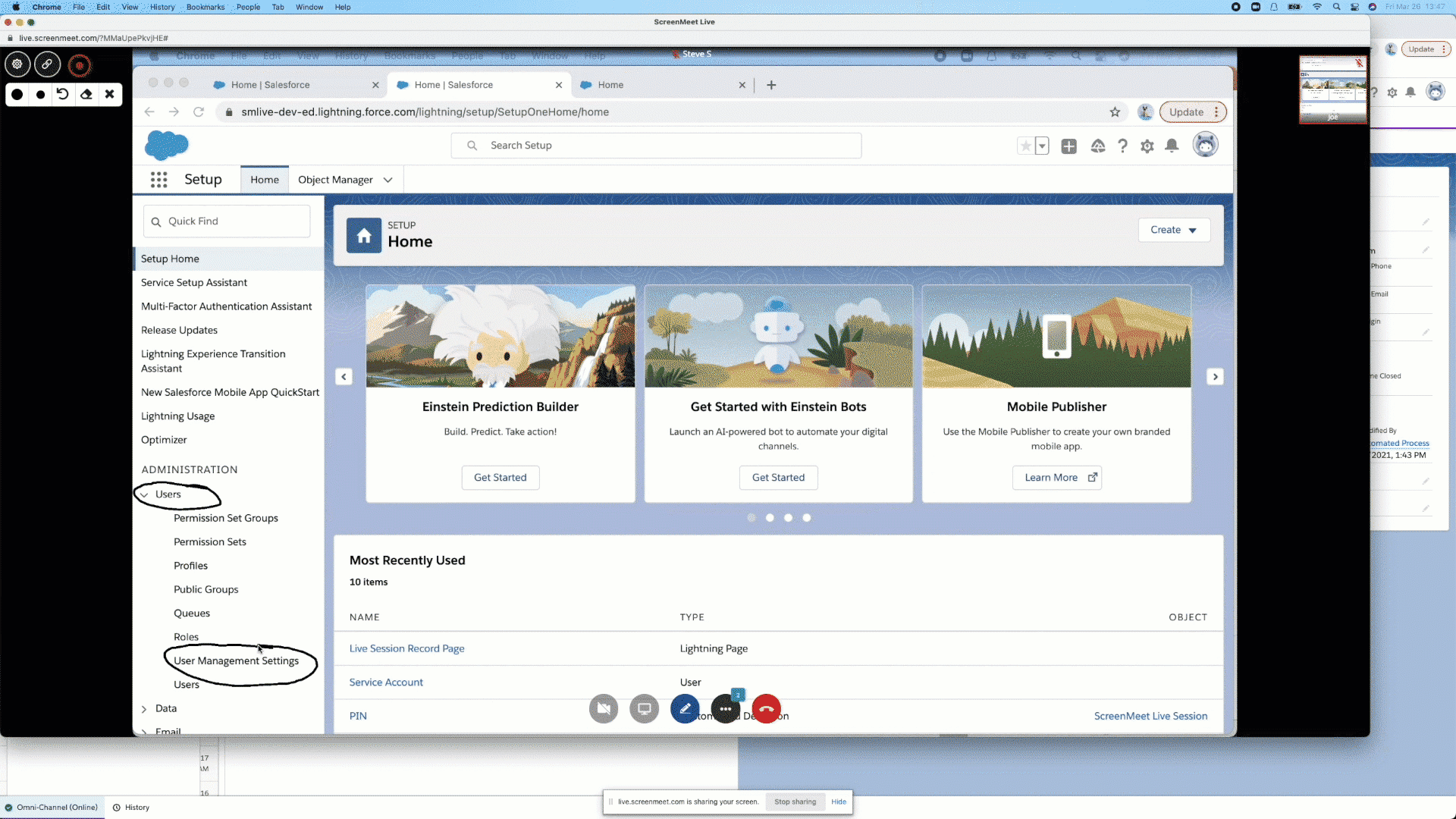 Improve your help desk with Remote Support for Salesforce
Add ScreenMeet to Service Cloud and digitally transform your IT support by leveraging ScreenMeet Remote Support + Live, to offer the next level of IT support, launched in-platform. Neither the agent nor the employee ever needs to leave Service Cloud!

Imagine being able to:
Use a mobile camera as remote eyes in addition to having full desktop access.
Have in-platform integration with any object record e.g. Case, Chat Transcript, Service Appointment.
Support any digital engagement channel e.g. chat, bot, voice.
Easily remote takeover your employee's or customer's device, with all data and recording automatically captured in Salesforce. No extra administrative work required!
Contact us to schedule a discovery call then sign up to get a free trial.
Seamless In-Platform Integration
ScreenMeet is delivered in-platform, so it is fully embedded in Salesforce with no additional apps to download, a single login, and a seamless experience for both customers and agents. With embedded screen sharing, cobrowsing and voice/video in Salesforce, your agents never need to leave the Salesforce platform and your customer's issues are solved faster.
Available on the AppExchange and developed in native Lightning UI components, ScreenMeet leverages Salesforce's Authentication and data security to provide you with the enterprise-level security and data protection you expect from your Enterprise-grade software vendors.
While ScreenMeet can be deployed inside of any Salesforce object, it is used mainly inside of Cases, Live Agent Chat, Service Cloud Voice, Lightning Scheduler, Einstein Chatbots, Leads, and Contacts. Watch a demo of ScreenMeet with Salesforce Service Cloud.
Sign up for a FREE trial here!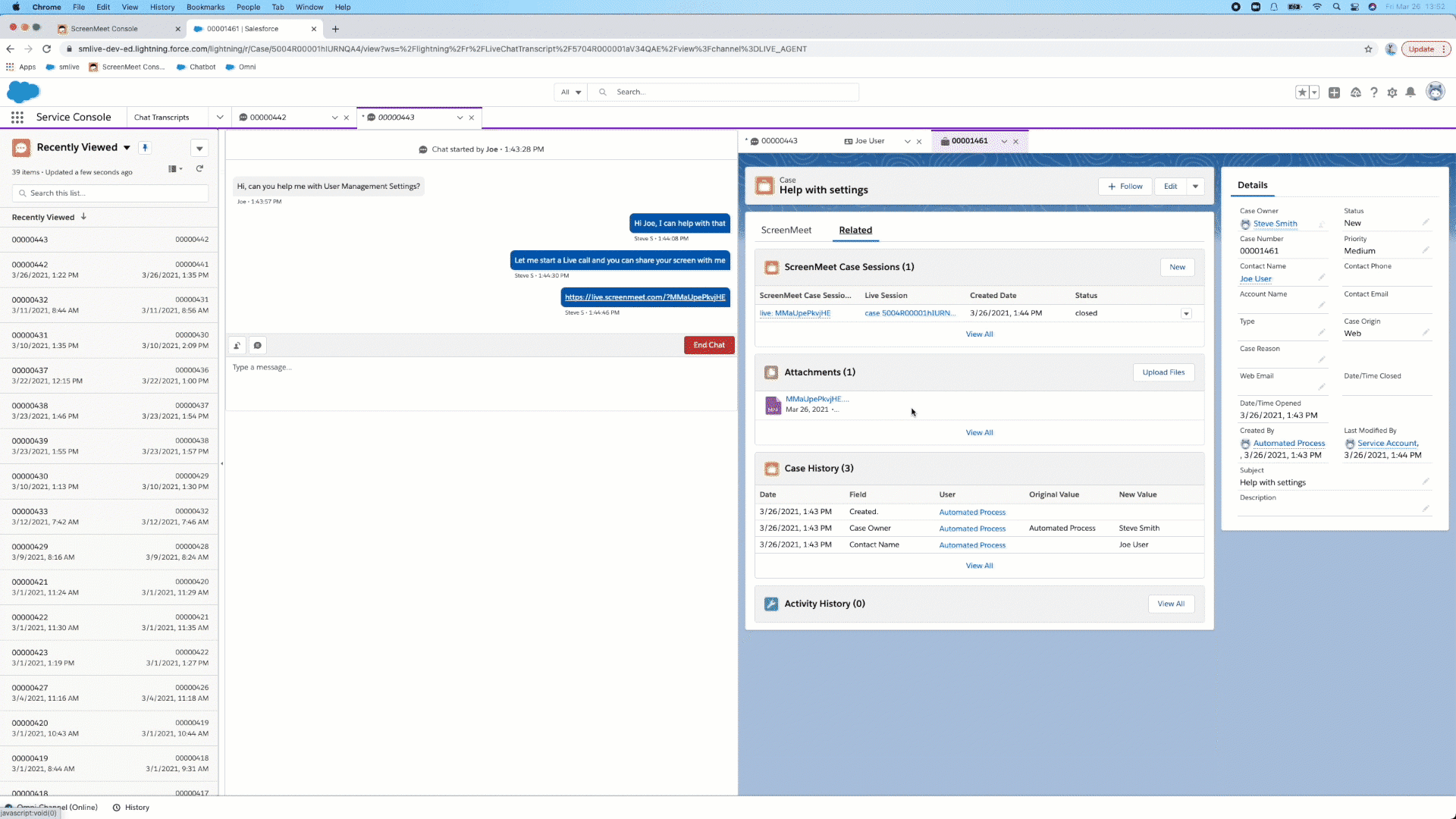 Key Benefits of ScreenMeet with Salesforce
35% increase in FCR and cases are resolved in minutes rather than days.
Users stay "In-Platform" never needing to leave Salesforce when using ScreenMeet.
All session data is logged in the Salesforce case automatically for single pane of glass visibility.
Works seamlessly within Salesforce Live agent chat, Service cloud voice, Lightning Scheduler and Einstein chatbots.
Clients & Partners






Testimonials
Screen sharing is a critical capability to help our customers in this digital-first world. With ScreenMeet's integration with Service Cloud, it also makes it seamless to use for our support engineers.
Jim Roth, EVP Customer Support
Salesforce
ScreenMeet is a prime example of the innovative technology partners we use to further enhance our easy and expert customer experience.
Jim Roth, EVP Customer Support
Salesforce
ScreenMeet is an extension of the Salesforce platform, and that is huge from an ongoing, maintenance of integrations perspective. It's another unicorn we've all been chasing for a long time in customer services: the single pane of glass for the agent.
ScreenMeet functions great - it's simple and easy for our agents to use. It has taken a process that required agents to have multiple browser tabs or programs open and reduced it to just a single interface (Salesforce).
We also saw a 35% increase in first call resolution. When you can see what your customers are seeing, you don't need to describe it. It's so much easier to resolve.
With ScreenMeet's capabilities, Zenni is now literally on the same page as our customers.
Jeff Huang, Director
Global Customer Success Operations
ScreenMeet has been easy to implement, and it's received a 4.75 from an engineer satisfaction standpoint where they really do love it because it just works. And that's huge.
With the ScreenMeet integration, our agents can start and end screen share sessions without leaving Salesforce to log the data somewhere else. Now, our customer information is all in one system and can be accessed at the drop of a hat as we take care of our customers.
With ScreenMeet we're measuring resolution time in minutes, not days.
When you can actually show and share screens with somebody, you're really able to teach them. And so, customers really value that learning about our platform and our products.
Revolutionize Your Salesforce Deployment with ScreenMeet.
Transform online support experiences with ScreenMeet.