ScreenMeet Announces Accelerated Growth and Series B Investment from Salesforce Ventures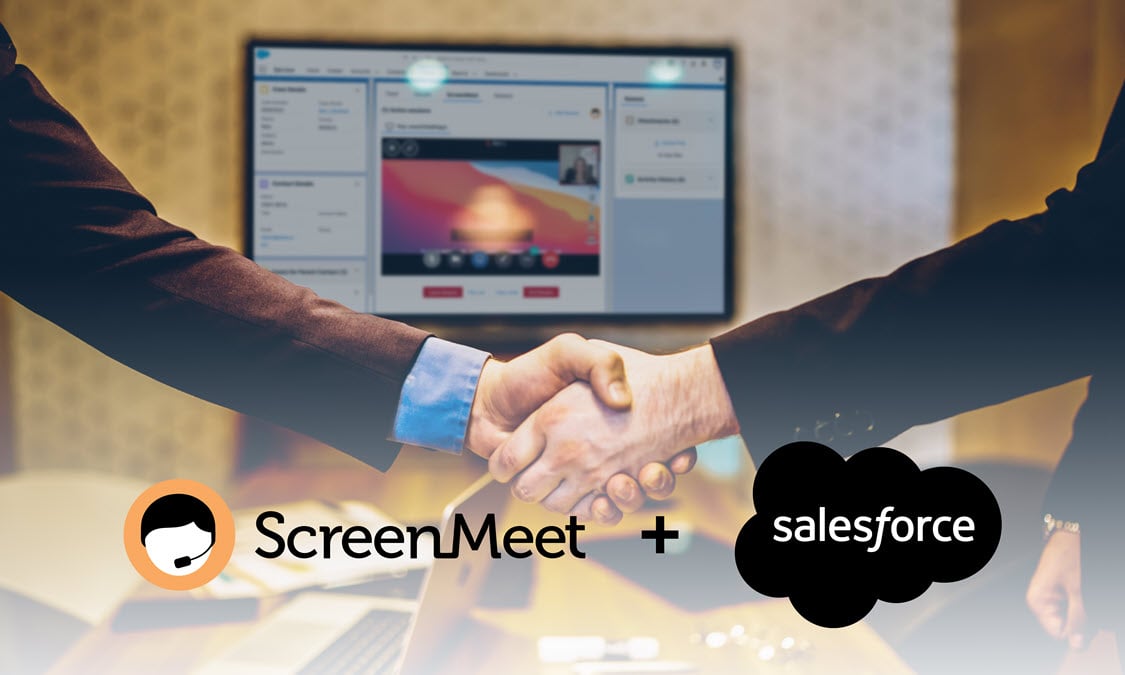 ScreenMeet Announces Accelerated Growth and Series B Investment from Industry Leading Sales and Service Platform Partners
Series B Financing will help to fuel the next level of growth and expansion of ScreenMeet as a premier provider of in-platform collaboration solutions for sales, service, and remote support.
San Francisco, CA. – September 22nd, 2021 – ScreenMeet, a cloud-native, in-platform, collaboration solution, today announced Series B investments led by existing investor, Aspenwood VC, and from new investor, Salesforce Ventures. ScreenMeet provides video chat, screenshare, remote support and cobrowsing solutions built into the Salesforce and ServiceNow platforms. ScreenMeet provides a seamless user experience including single sign-on and data integration, so users never have to leave Salesforce or ServiceNow to provide these enhanced services.

The completed Series B round of financing was accelerated due to the increasing demand for remote work and online sales and support activity brought on by the global pandemic. ScreenMeet's suite of collaboration products for contact center and IT Help Desk workflows continue to grow, and ScreenMeet is on pace to double its revenue this year.

"We are immensely proud of the progress and growth we have achieved in the past 18 months," said Ben Lilienthal, ScreenMeet CEO, "even with the dramatic circumstances surrounding business operations during a pandemic. We have seen the demand and need for our solution grow with more business occurring online and companies having to support their workforce and customers remotely. Having our two most strategic partners participate in this round of financing is further validation of the value we can bring to Salesforce and ServiceNow customers and their employees."

"ScreenMeet is a prime example of the innovative technology partners we use to further enhance our easy and expert customer experience," said Jim Roth, EVP Customer Support, Salesforce. "Screen sharing is a critical capability to help our customers in this digital-first world. With ScreenMeet's integration with Service Cloud, it also makes it seamless to use for our support engineers."

"We are excited to support ScreenMeet on their journey to owning the collaboration category for Sales, Service and Support, "remarked Lars Leckie, Managing Director, Aspenwood VC. "We have been tracking this company for a number of years and look forward to supporting their growth now and into the future."


About ScreenMeet
ScreenMeet was founded in 2015 by online meeting and customer support veterans to build a new generation of cloud-based, enterprise tools for customer support and IT help desk for industry-leading, globally recognized brands.
For enterprises seeking to deliver exceptional person-to-person customer support experiences, ScreenMeet provides purpose-built support software that integrates with CRM and ITSM platforms made with the latest cloud technologies. For more information, please visit www.screenmeet.com.
About Salesforce Ventures
Salesforce Ventures is the global investment arm of Salesforce and is focused on partnering with the most ambitious enterprise technology companies at every stage in their journey. Since 2009, Salesforce Ventures has invested over $3 billion in over 400 leading companies including Auth0, Databricks, DocuSign, Guild Education, Hopin, monday.com, nCino, Snowflake, Snyk, Stripe, Tanium, Twilio, and Zoom. Salesforce Ventures provides portfolio companies with unparalleled access to Salesforce, one of the fastest-growing enterprise software companies in the world, including strategic advisory, customer introductions, and the strongest cloud ecosystem. Salesforce Ventures has invested in more than 25 countries with offices all over the world including in San Francisco, Irvine, New York, London, Tokyo, and Sydney. Follow @SalesforceVC and learn more at salesforce.com/ventures.